Singapore is one of the most popular tourist destinations in South-East Asia. For such a small country it has plenty to offer including great shopping, fantastic food and exciting nightlife.

Singapore has a population of around 5 million people. Singapore was originally a state of Malaysia until it broke off and formed an independent country in 1965.

What's on on Singapore

March 2013, April 2013, May 2013,
Public Holidays in Singapore
There will be 11 public holidays in Singapore in 2013:
New Years Day Tuesday 1st January 2013
Chinese New Year Sunday 10th February 2013 and Monday 11th February 2013 - Tuesday will be a public holiday
Good Friday Friday 29th March 2013
Labour Day Wednesday 1st May 2013
Vesak Day Friday 24th May 2013
Hari Raya Puasa Thursday 8th August 2013
National Day Friday 9th August 2013
Hari Raya Haji Tuesday 15th October 2013
Deepavali Sunday 3rd November 2013 - Monday 5th November 2013 will be a public holiday
Christmas Day Wednesday 25th December 2013
Tourist Visa for Singapore
Most nationalities do not need a visa to enter Singapore. At the airport they issue you with a 90 day entry permit. For more details of which nationalities do require a visa please see the Singapore Immigration & Checkpoint website.
Most international airlines fly into Changi Airport in Singapore. You can also reach Singapore by ferry from Malaysia and Indonesia. From Malaysia you can also enter by road across the causeway at Johor Bahru.
Accommodation in Singapore
Singapore has a range of accommodation to suit all budgets. Check out the range of hotels available:
The Orchard Road Christmas Light Up for over 20 years the whole of Orchard Road Singapore gets decorated and lit up to celebrate Christmas. All through December.
Zouk Out Festival 2012 A dance music festival Siloso Beach Sentosa Island Thursday 6th December 2012 until Saturday 8th December 2012
New Years Eve celebrations 31st December 2012 - there are excellent fireworks about Singapore River at Clarke Quay and at Marina Bay Sands at midnight on New Years Eve
Chinese New Year - The Year of the Snake will be celebrated in Singapore 10th and 11th February 2013.
Singapore F1 Grand Prix September 2013
Last updated 15th November 2012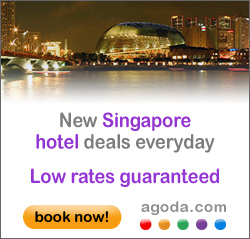 Top 10 Things to do in Singapore - Now the Top 14 Things to do in Singapore
1. The food - Singapore has a wide selection of cuisine ranging from Singaporean, Malay, Chinese, Indian as well as some fine restaurants from all over the world. Check out our Singapore Restaurant Guide. For the cheapest meals then you should visit a Hawker centre which is an outdoor food court with lots of vendors selling various cuisine. Check out Newton Circus the most famous hawker centre.
2. Shopping - from electronics, clothing, jewelry to gifts and presents for the family, you should find a bargain in Singapore. One of the most popular shopping districts is Orchard Road.
3. Singapore Zoo is one of the best zoos in the world. With a great selection of animals and a night safari which should not be missed.
4. Singapore Chinatown is a large area in the centre of Singapore with a great selection of Chinese restaurants, food shopping, arts and crafts and an open market everyday.
5. Singapore Little India. Singapore has a large Indian population and this is the place to come to get an experience of life in India. With lots of Indian restaurants, herb and spice shops, markets and Hindu temples.
6. Sentosa Island is a small island off Singapore which has become an entertainment and resort area with plenty of amusement rides, beach and water sports activities as well as loads of restaurants and bars.
7. Marina Bay Sands is a new multi-story complex setup with a massive shopping centre, 5 star hotel, Casino, bars, entertainment and a great selection of restaurants.
8. Universal Studios is located on Sentosa Island, part of the Resorts World Sentosa.
9. Singapore Botanic Gardens a tropical rainforest located in the heart of Singapore city.
10. Asian Civilization Museum the first museum in the region to show a cross section of Asian culture and civilization.
11. Gardens by the Bay - the new superpark opened in June 2012 with 2 massive botanical conservatories displayed hundreds of thousands of species of plants from around the world.
12. Chinese Gardens Jurong Singapore - The Chinese Gardens are tranquil gardens built in the Chinese Imperial Style. Lots of nice grassed areas to sit and relax and have a picnic.
13. Visit Pulau Ubin a small island just 10 minutes by ferry from Changi Point. Pulau Ubin has some beautiful nature walks, white sandy beaches. Hire a bicycle and ride around and discover the island.
14. Malay-Arab Quarter an interesting area dominated by the Sultan Mosque, a good range of Middle-Eastern restaurants and Arab street lined with stores selling fabrics and persian carpets.